According to ExpandedRamblings.com, there have been over 1 billion iPhone's sold since their launch and 395 sold per minute! The iPhone is an essential tool for any entrepreneur or business owner because of it's safety and unlimited range of mobility to run your business. It's also the #1 tool for interaction in the US. This means if you use the same iPhone for personal and business, you most likely have juicy details about your private life sitting alongside important business tools and access points.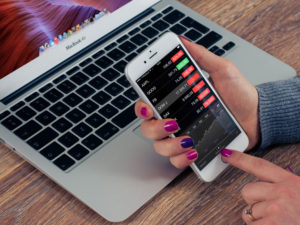 If you own an Apple iPhone 5s, 5se, 6, 6s, 6+, 6+ s, or 7 you probably use the fingerprint Apple Touch ID to unlock your phone. The thought behind it is "there is no way to replicate my fingerprint, plus there is a passcode entry if anything goes wrong". At Illumonarch, we focus a lot on security and we have learned that a lot of times it's not the hacker sitting pretty at their house you should be afraid of, it's actually someone around you either in business or in your personal life.
The fact is, the act of relying on the security of your whole digital life at a tap of your finger is ridiculous. We have talked to dozens of people before publishing this article to make sure we were not just creating a conspiracy out of thin air. Here's some of the scenarios we have heard from all walks of people:
-Parents accuse daughter of dating someone they don't approve of. Daughter refuses to show them her text messages. They wait until she is asleep, she keeps her phone by her bed, they take the phone and slide it under her resting hand and unlock the phone and spend two hours going through every single private conversation and photo in her phone.
-Wife is suspicious of husband cheating on her with another woman at the office. Wife demands to see his emails on his iPhone but husband claims that all his emails are confidential between his colleagues and she cannot read the sensitive information. When her husband is asleep with his arm around her shoulder, the wife gently places his iPhone under his fingers and unlocks the phone.
-John and Mark are childhood friends and form a startup; business is good. Mark has personal resistance against a deal that could bring their business to the next level, so John secretly discusses the opportunity without Mark's approval. Mark becomes suspicious of this and decides to throw a party and knows that John falls asleep early after a few drinks. Of course John trusts his iPhone on the end table by the couch. Why wouldn't he? It's locked with his fingerprint! You know what happens next, and that led to the deal getting lost and the business partners splitting from each other.
If you're not a grandparent or a child, you most likely have things on your phone that you do not want others to see. If you make a custom 4-pin passcode and turn off Apple Touch ID, we bet you'll forget that you ever had it in less than a day. Please don't make your passcode something anyone could find out like: your birthday; your anniversary; your graduation year; the last 4 digits of your phone number; your bank pin number (this is for the people who easily give out their phone passcode to people who use their phone).
HERE'S HOW TO TURN OFF APPLE TOUCH ID:
Settings > Touch ID & Passcode > Type in your passcode > Uncheck Use Touch ID for Phone Unlocck > Done!